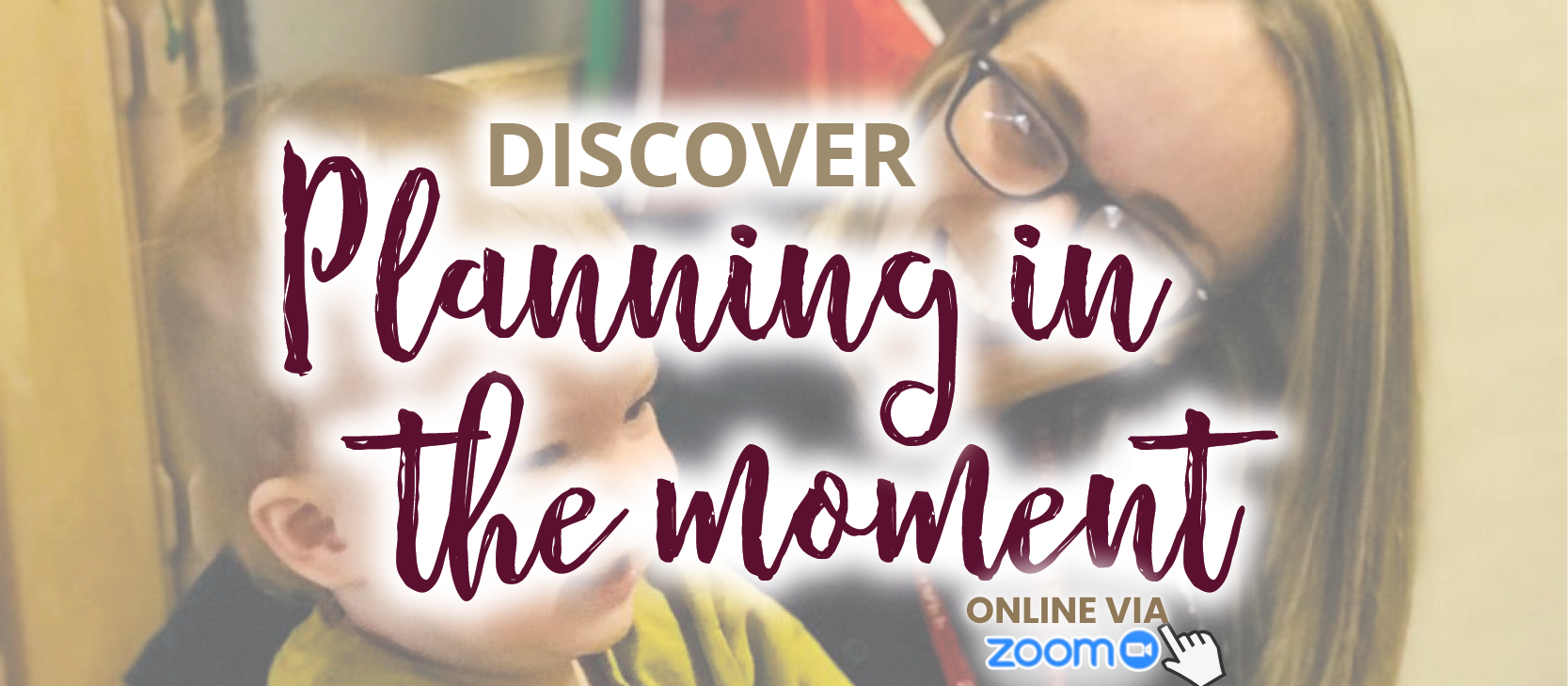 South & East Sussex - ONLINE Planning in the moment - 23/11/2023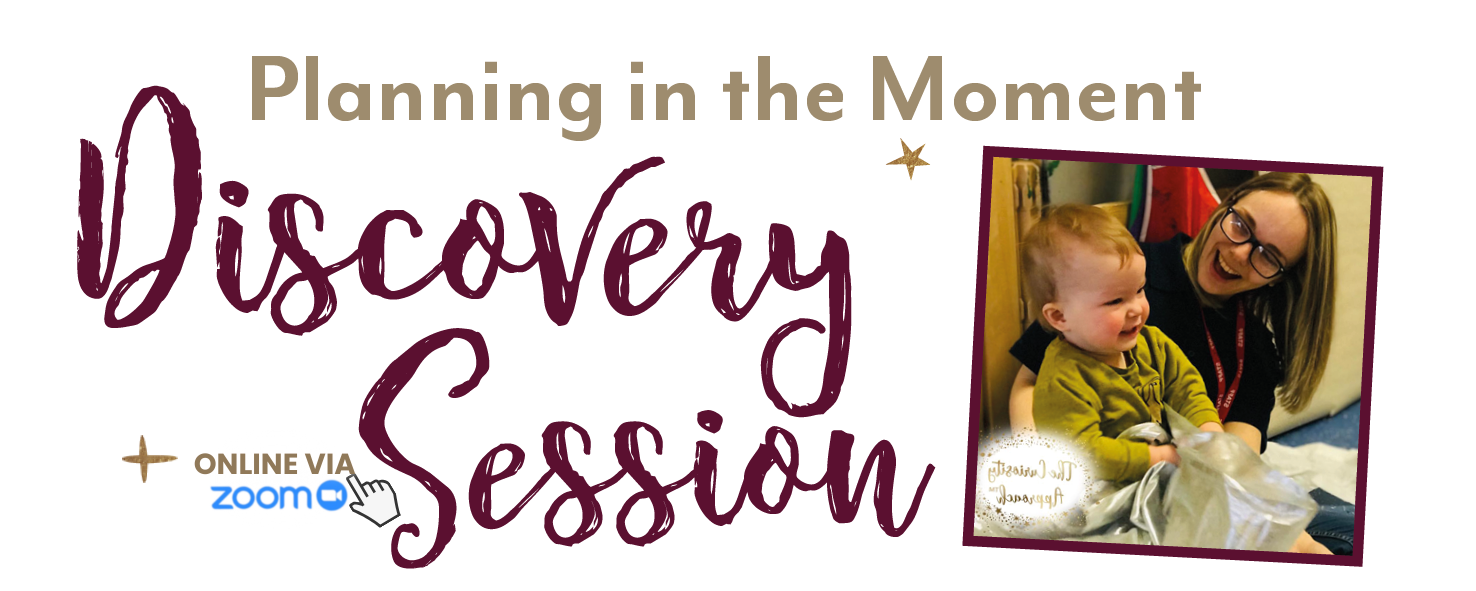 23rd November 2023 @ 19.30 - 20.30
Hi I'm Sarah Putland I can't wait to meet you at my Online Discovery Session about Planning In The Moment!
Do you want to move away from endless paperwork, and plan 'in the moment'? Maybe you are already implementing 'Planning in the moment' but finding it a bit tricky and would love the chance to discuss it more with like minded Early Years Educators.
During this online Discovery session we will be looking at all of the elements of 'Planning in the moment' and how it can be implemented into your setting.
If you would like to find out more or need some further support, then why not join us from the comfort of your own home.

Ready to be inspired? Book Today!

(Ticket price inclusive of VAT)
Event info
Thu, 23 November 2023
Online via Zoom!
South & East Sussex - ONLINE Planning in the moment - 23/11/2023
{"id":"19443","name":"South \u0026 East Sussex - ONLINE Planning in the moment - 23/11/2023","properties":{"name":"South \u0026 East Sussex - ONLINE Planning in the moment - 23/11/2023","slug":"south--east-sussex-online-planning-in-the-moment-23112023","og_url":null,"address":null,"enabled":true,"og_desc":null,"og_type":null,"location":null,"og_image":null,"og_title":null,"meta_desc":null,"weighting":null,"meta_title":null,"expiry_date":1700822816,"release_date":1694774780,"twitter_type":null,"category_array":[],"secure_zone_array":["empty"],"module_field_14/product_1":"","module_field_14/product_2":"","module_field_14/product_3":[],"module_field_14/product_4":"","module_field_14/product_5":"","module_field_14/product_6":null,"module_field_14/product_7":null,"module_field_custom_14/product_1":"","module_field_14/product/inventory/1":20,"module_field_14/product/inventory/2":"global","module_field_14/product/inventory/3":"hide","module_field_14/product/price/aud/1":0,"module_field_14/product/price/aud/2":0,"module_field_14/product/price/aud/3":"","module_field_14/product/price/aud/4":[],"module_field_14/product/price/cad/1":0,"module_field_14/product/price/cad/2":0,"module_field_14/product/price/cad/3":"","module_field_14/product/price/cad/4":[],"module_field_14/product/price/eur/1":0,"module_field_14/product/price/eur/2":0,"module_field_14/product/price/eur/3":"","module_field_14/product/price/eur/4":[],"module_field_14/product/price/gbp/1":1000,"module_field_14/product/price/gbp/2":0,"module_field_14/product/price/gbp/3":"","module_field_14/product/price/gbp/4":[],"module_field_14/product/price/nzd/1":0,"module_field_14/product/price/nzd/2":0,"module_field_14/product/price/nzd/3":"","module_field_14/product/price/nzd/4":[],"module_field_14/product/price/usd/1":0,"module_field_14/product/price/usd/2":0,"module_field_14/product/price/usd/3":"","module_field_14/product/price/usd/4":[],"module_name":"Products","module_slug":"our-shop","module_detail":true,"module_detail_template":null,"module_detail_default_layout":"default","module_path":null,"module_sz":null,"module_sz_updated":null,"module_sz_display_type":null},"model":"module_14/product","create_date":"1694774834","last_edit_date":"1694774834","prices":[],"inventory":{"properties":{"module_field_14/inventory_1":"19443","module_field_14/inventory_2":"20","module_field_14/inventory_3":"global","module_field_14/inventory_4":"hide"},"id":"19443","quantity":"20","inventory_type":"global","display_type":"hide"},"product_attributes":[],"module_name":"Products","module_slug":"our-shop","module_detail":true,"module_detail_template":null,"module_detail_default_layout":"default","module_path":null,"module_sz":null,"module_sz_updated":null,"module_sz_display_type":null,"Description":"","Image":"","CFS":[],"Product Code (SKU)":"","Image Alt":"","Volume Pricing Enabled":null,"Volume Pricing":null,"Inventory Quantity":20,"Inventory Type":"global","Inventory Display Type":"hide","Chargeable Price AUD":0,"Display Only Price AUD":0,"Currency Symbol AUD":"","Tax Code AUD":[],"Chargeable Price CAD":0,"Display Only Price CAD":0,"Currency Symbol CAD":"","Tax Code CAD":[],"Chargeable Price EUR":0,"Display Only Price EUR":0,"Currency Symbol EUR":"","Tax Code EUR":[],"Chargeable Price GBP":1000,"Display Only Price GBP":0,"Currency Symbol GBP":"","Tax Code GBP":[],"Chargeable Price NZD":0,"Display Only Price NZD":0,"Currency Symbol NZD":"","Tax Code NZD":[],"Chargeable Price USD":0,"Display Only Price USD":0,"Currency Symbol USD":"","Tax Code USD":[],"Franchise":"","slug":"south--east-sussex-online-planning-in-the-moment-23112023","weighting":null,"release_date":1694774780,"expiry_date":1700822816,"enabled":true,"category_array":[],"meta_title":null,"meta_desc":null,"og_title":null,"og_desc":null,"og_image":null,"og_type":null,"og_url":null,"twitter_type":null,"secure_zone_array":["empty"],"location":null,"address":null,"full_slug":"/our-shop/south--east-sussex-online-planning-in-the-moment-23112023","cfs_data":{},"price":{"price_charge":1000,"original_price_charge":1000,"price_display":0,"properties":{"module_field_14/price_3":1000,"module_field_14/price_4":0},"currency":"GBP","currency_symbol":"£","price_charge_formatted":"10.00","original_price_charge_formatted":"10.00","price_display_formatted":"0.00","product_id":null,"price_charge_before_tax":1000,"price_charge_formatted_before_tax":"10.00","price_charge_tax_amount":0,"price_charge_tax_amount_formatted":"0.00","apply_tax":false}}
£10.00
20 Tickets available