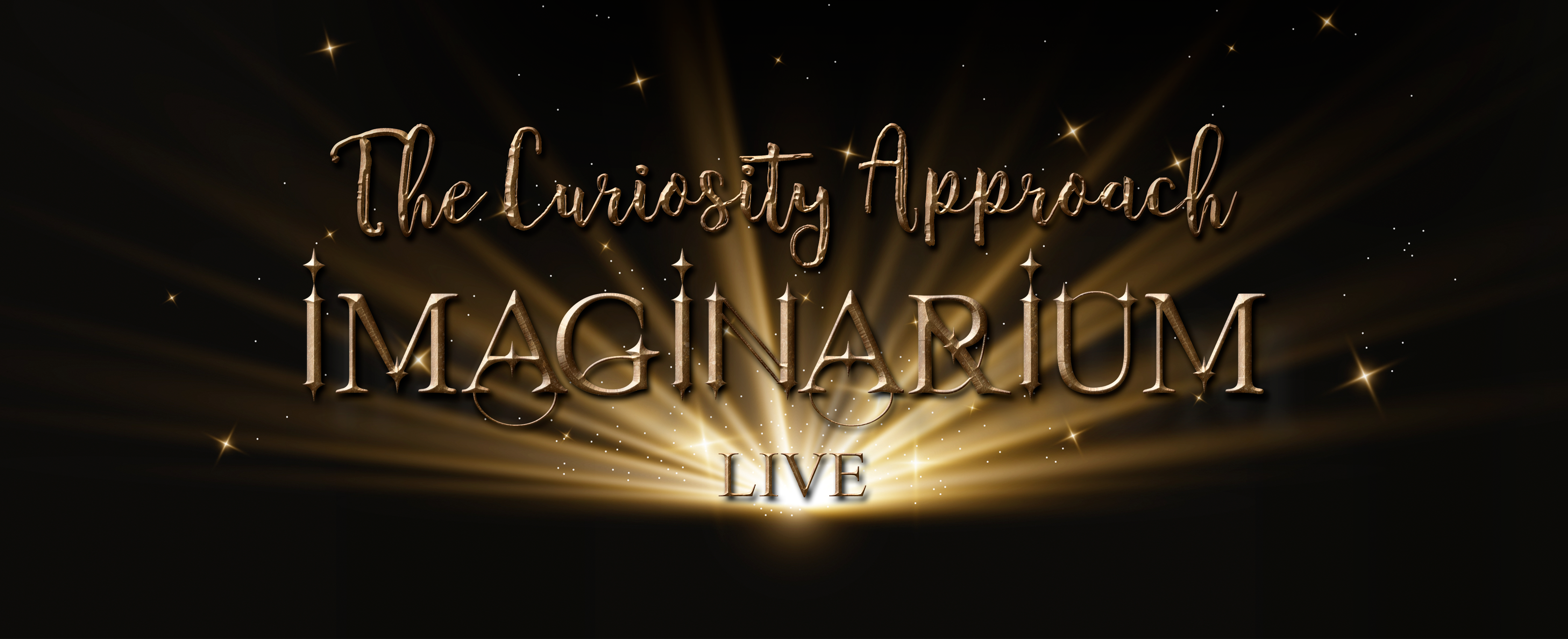 The Curiosity Approach - ⭐️ The Imaginarium LIVE ⭐️
A LIVE immersive show in our hometown of Birmingham!
Come and feel the magic, passion and power of being in a room with like minded practitioners.
Step out from behind your screens, connect face to face, with hearts, minds and imaginations.





The 2 hour LIVE event includes;
2 hours of wonderment that will empower you as Early years educators to recognise the most important resource you have is YOU!
Immerse yourself and get out of the humdrum of Early Years
The game-changing elements of The Curiosity Approach that you can bring to your provision
Great ideas to transform your provision to a 'Powerful rich play space for the children you serve'
Feel the power of positive thinking!
The A-Z of curiosity and the difference it will make to your children, their happiness and their development
Hear how the revolution is preparing children for the future
A chance to WIN an Accreditation for your setting...
Event info
Sun, 14 May 2023
Odeon Cinemas, New St, Birmingham, B2 4NU
STANDARD TICKET
{"id":"18453","name":"STANDARD TICKET","properties":{"name":"STANDARD TICKET","slug":"standard-ticket","og_url":null,"address":null,"enabled":true,"og_desc":null,"og_type":null,"location":null,"og_image":null,"og_title":null,"meta_desc":null,"weighting":null,"meta_title":null,"expiry_date":2145916800,"release_date":1682587834,"twitter_type":null,"category_array":[],"secure_zone_array":["empty"],"module_field_14/product_1":"","module_field_14/product_2":"","module_field_14/product_3":[],"module_field_14/product_4":"","module_field_14/product_5":"","module_field_14/product_6":null,"module_field_14/product_7":null,"module_field_custom_14/product_1":"","module_field_14/product/inventory/1":6,"module_field_14/product/inventory/2":"global","module_field_14/product/inventory/3":"hide","module_field_14/product/price/aud/1":0,"module_field_14/product/price/aud/2":0,"module_field_14/product/price/aud/3":"","module_field_14/product/price/aud/4":[],"module_field_14/product/price/cad/1":0,"module_field_14/product/price/cad/2":0,"module_field_14/product/price/cad/3":"","module_field_14/product/price/cad/4":[],"module_field_14/product/price/eur/1":0,"module_field_14/product/price/eur/2":0,"module_field_14/product/price/eur/3":"","module_field_14/product/price/eur/4":[],"module_field_14/product/price/gbp/1":2040,"module_field_14/product/price/gbp/2":0,"module_field_14/product/price/gbp/3":"","module_field_14/product/price/gbp/4":[],"module_field_14/product/price/nzd/1":0,"module_field_14/product/price/nzd/2":0,"module_field_14/product/price/nzd/3":"","module_field_14/product/price/nzd/4":[],"module_field_14/product/price/usd/1":0,"module_field_14/product/price/usd/2":0,"module_field_14/product/price/usd/3":"","module_field_14/product/price/usd/4":[],"module_name":"Products","module_slug":"our-shop","module_detail":true,"module_detail_template":null,"module_detail_default_layout":"default","module_path":null,"module_sz":null,"module_sz_updated":null,"module_sz_display_type":null},"model":"module_14/product","create_date":"1682587922","last_edit_date":"1683965790","prices":[],"inventory":{"properties":{"module_field_14/inventory_1":"18453","module_field_14/inventory_2":"6","module_field_14/inventory_3":"global","module_field_14/inventory_4":"hide"},"id":"18453","quantity":"6","inventory_type":"global","display_type":"hide"},"product_attributes":[],"module_name":"Products","module_slug":"our-shop","module_detail":true,"module_detail_template":null,"module_detail_default_layout":"default","module_path":null,"module_sz":null,"module_sz_updated":null,"module_sz_display_type":null,"Description":"","Image":"","CFS":[],"Product Code (SKU)":"","Image Alt":"","Volume Pricing Enabled":null,"Volume Pricing":null,"Inventory Quantity":6,"Inventory Type":"global","Inventory Display Type":"hide","Chargeable Price AUD":0,"Display Only Price AUD":0,"Currency Symbol AUD":"","Tax Code AUD":[],"Chargeable Price CAD":0,"Display Only Price CAD":0,"Currency Symbol CAD":"","Tax Code CAD":[],"Chargeable Price EUR":0,"Display Only Price EUR":0,"Currency Symbol EUR":"","Tax Code EUR":[],"Chargeable Price GBP":2040,"Display Only Price GBP":0,"Currency Symbol GBP":"","Tax Code GBP":[],"Chargeable Price NZD":0,"Display Only Price NZD":0,"Currency Symbol NZD":"","Tax Code NZD":[],"Chargeable Price USD":0,"Display Only Price USD":0,"Currency Symbol USD":"","Tax Code USD":[],"Franchise":"","slug":"standard-ticket","weighting":null,"release_date":1682587834,"expiry_date":2145916800,"enabled":true,"category_array":[],"meta_title":null,"meta_desc":null,"og_title":null,"og_desc":null,"og_image":null,"og_type":null,"og_url":null,"twitter_type":null,"secure_zone_array":["empty"],"location":null,"address":null,"full_slug":"/our-shop/standard-ticket","cfs_data":{},"price":{"price_charge":2040,"original_price_charge":2040,"price_display":0,"properties":{"module_field_14/price_3":2040,"module_field_14/price_4":0},"currency":"GBP","currency_symbol":"£","price_charge_formatted":"20.40","original_price_charge_formatted":"20.40","price_display_formatted":"0.00","product_id":null,"price_charge_before_tax":2040,"price_charge_formatted_before_tax":"20.40","price_charge_tax_amount":0,"price_charge_tax_amount_formatted":"0.00","apply_tax":false}}
£20.40
6 Tickets available