10 ideas to use a recycled pallet in your Early Childhood setting
Are you curious to see lots of different ways pallets have been used in and around our settings?
Did you know that "around the world it's estimated that around two billion pallets are used every day, and that's not counting the ones lying around depots and factories awaiting reuse or recycling"?
It's not surprising then, that pallets are the basis of many projects that make use of the material.
Helping sustainability and recycling.
* Please remember that some pallets may be unsuitable for use*
* Risk assessment is essential. Check before use.
Images are from a number of different settings.
https://www.nurseryworld.co.uk...
At The Curiosity Approach® our aim is to create powerful rich play spaces for children, whilst looking beyond catalogues and furniture specially marketed at Early Years settings. We look to recycle, reclaim a rescue old furniture or items that can be transformed into practical and safe equipment. This isn't. about switching the brightly coloured nursery furniture in exchange for wooden items, it about thinking how we can save money, our budget and saving the planet too. How we can we create incredible Early Years environments whilst being sustainable too.
Please remember that before using a rescued pallet it is always important to risk assess and check for. Any splinters broken wood, residue or stamp marks. Here is a useful link to help you select and assess which pallet you use in your setting:
https://www.1001pallets.com/pa...
1. No effort Play Dough station.
When you look carefully there are many pallets available that require no DIY skills at all, they can be used as wonderful low level play dough stations.
At The Curiosity Approach® we remove all the chairs in the children's play spaces, we feel it is important to allow children to move and access the whole room freely, without the restriction of chairs. By having pallets as low tables, children get to sit or kneel on the floor, sit on cushions and to feel grounded. Developing core strength and those important gross motor skills.
We look to move away from the institutionalised feel of a formal school classroom and create spaces and places that inspire children to play.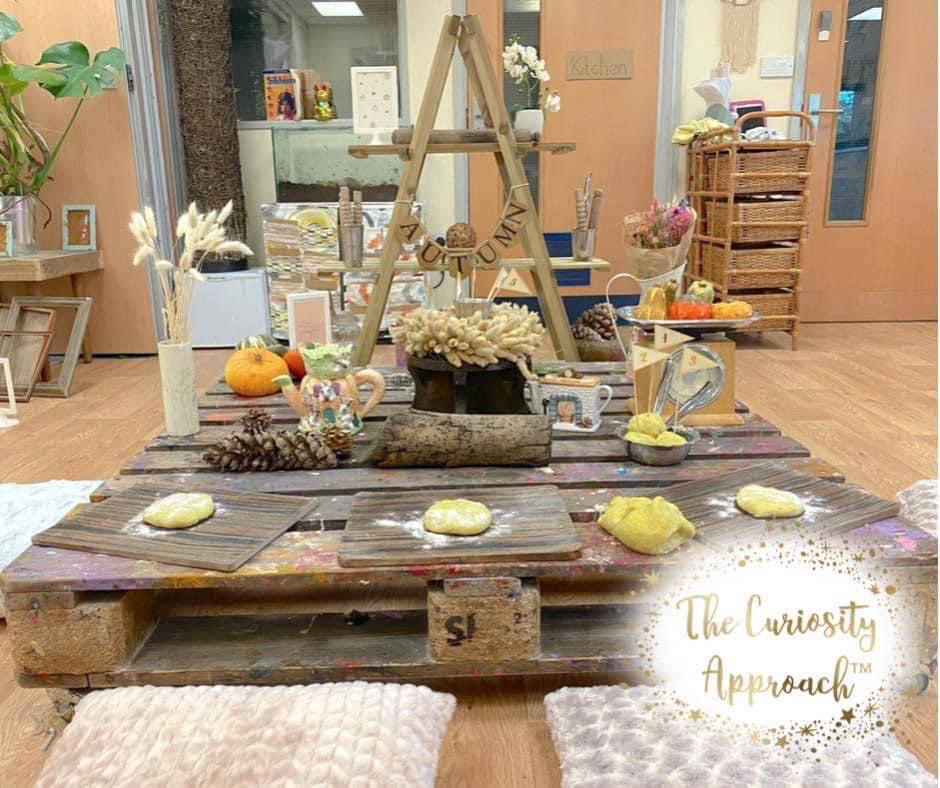 2. Bug-Ingham Palace
Nature is hugely important to us at the Curiosity Approach® and we love helping children observe and explore our natural world. To help create spaces for bugs and insects to have a home, we use stacked pallets to create a bug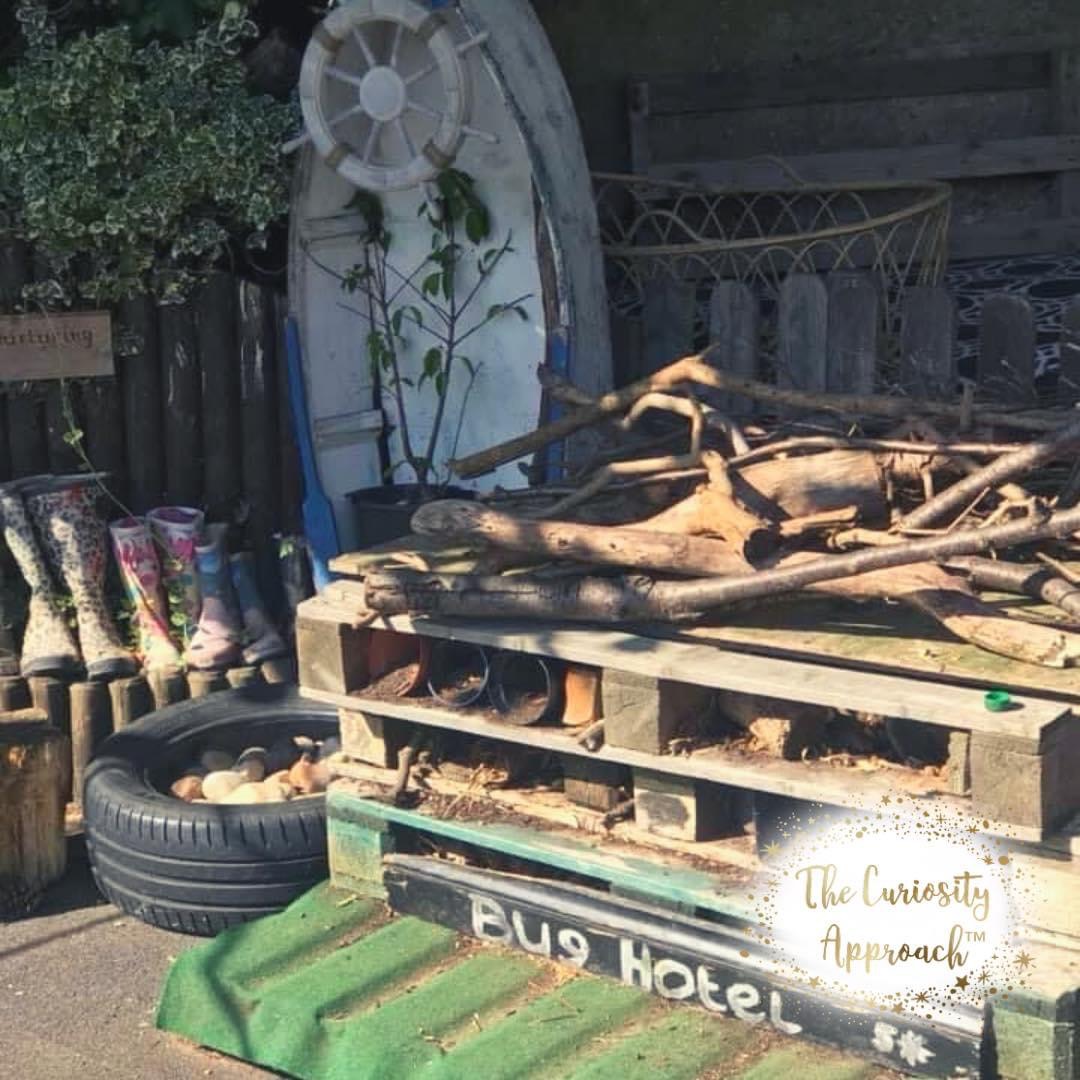 3.Art Atelier
Pallets when reversed provide great shelving for any Early Years Atelier, they offer a great place to store pens, pencils, paints and all those art materials. We ensure that art materials are available both inside and outdoors, this provides children with resources that are easily accessible and close at hand.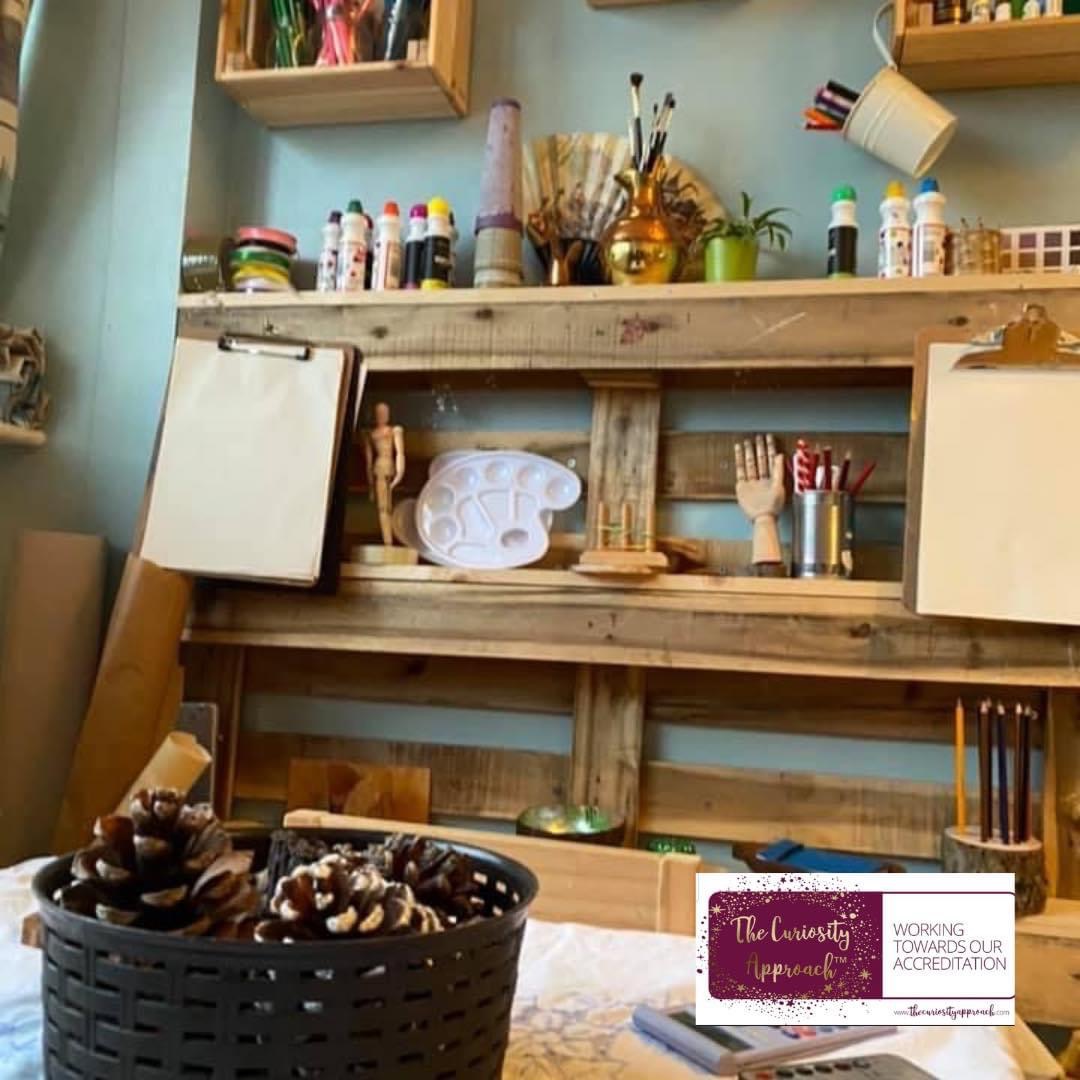 4. Outdoors art resource shelving Need somewhere to stack and stand your paints and paint brushes? An invitation for children to get creative outside, why not up cycle a pallet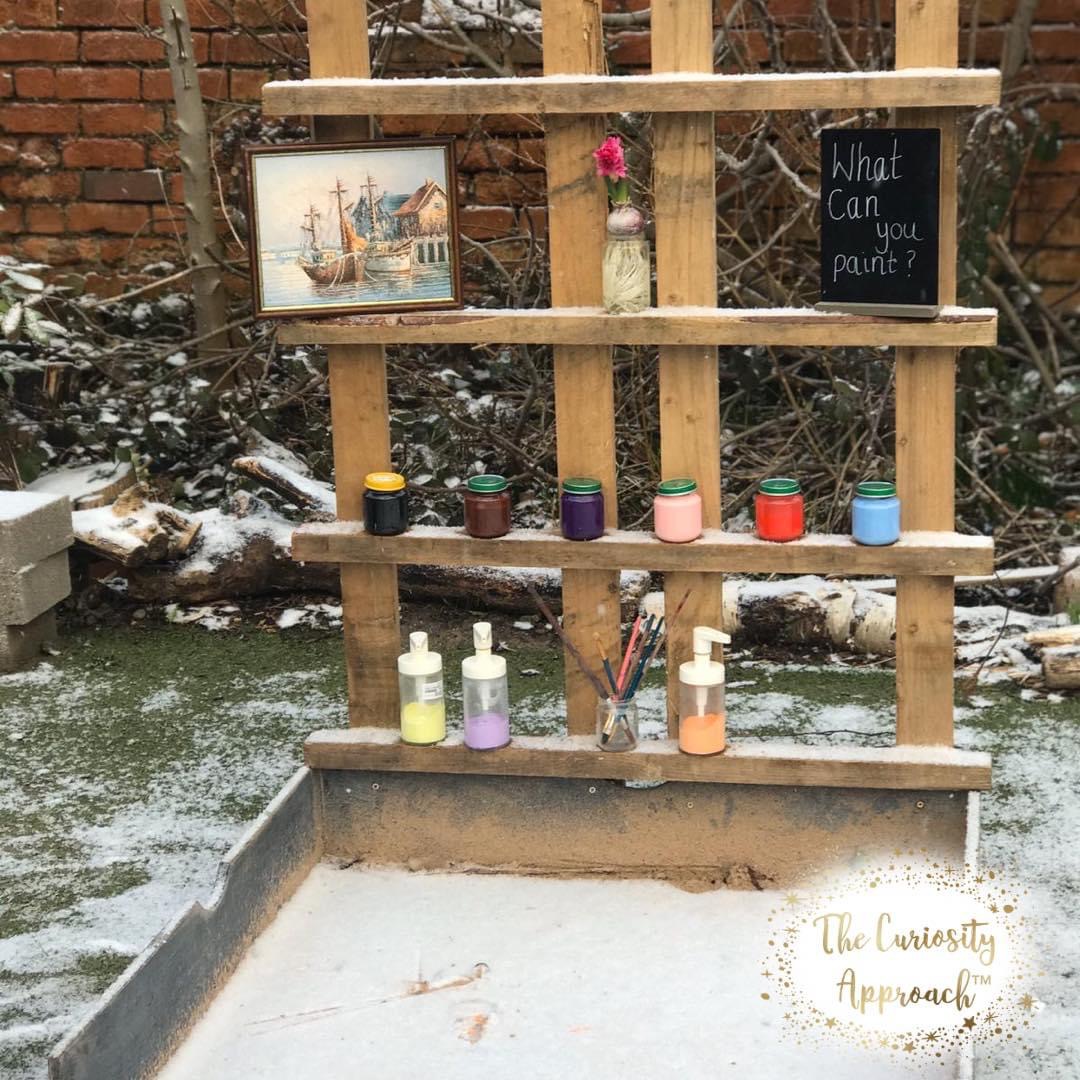 5. Sensory Kitchen
Instead of a mud kitchen, make a sensory kitchen instead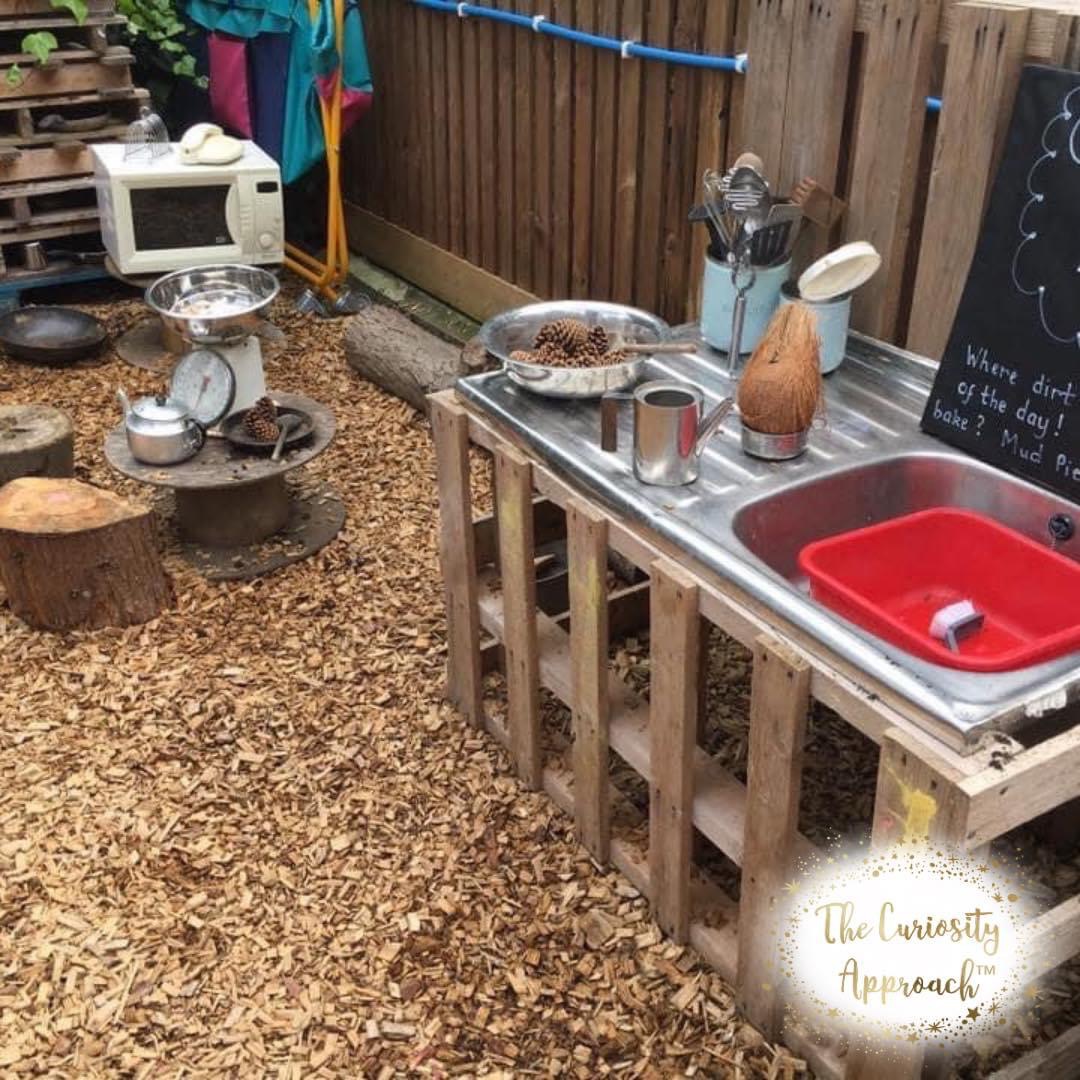 6. Shelving for all those authentic resources, herbs and natural resources. An ideal addition to your sensory kitchen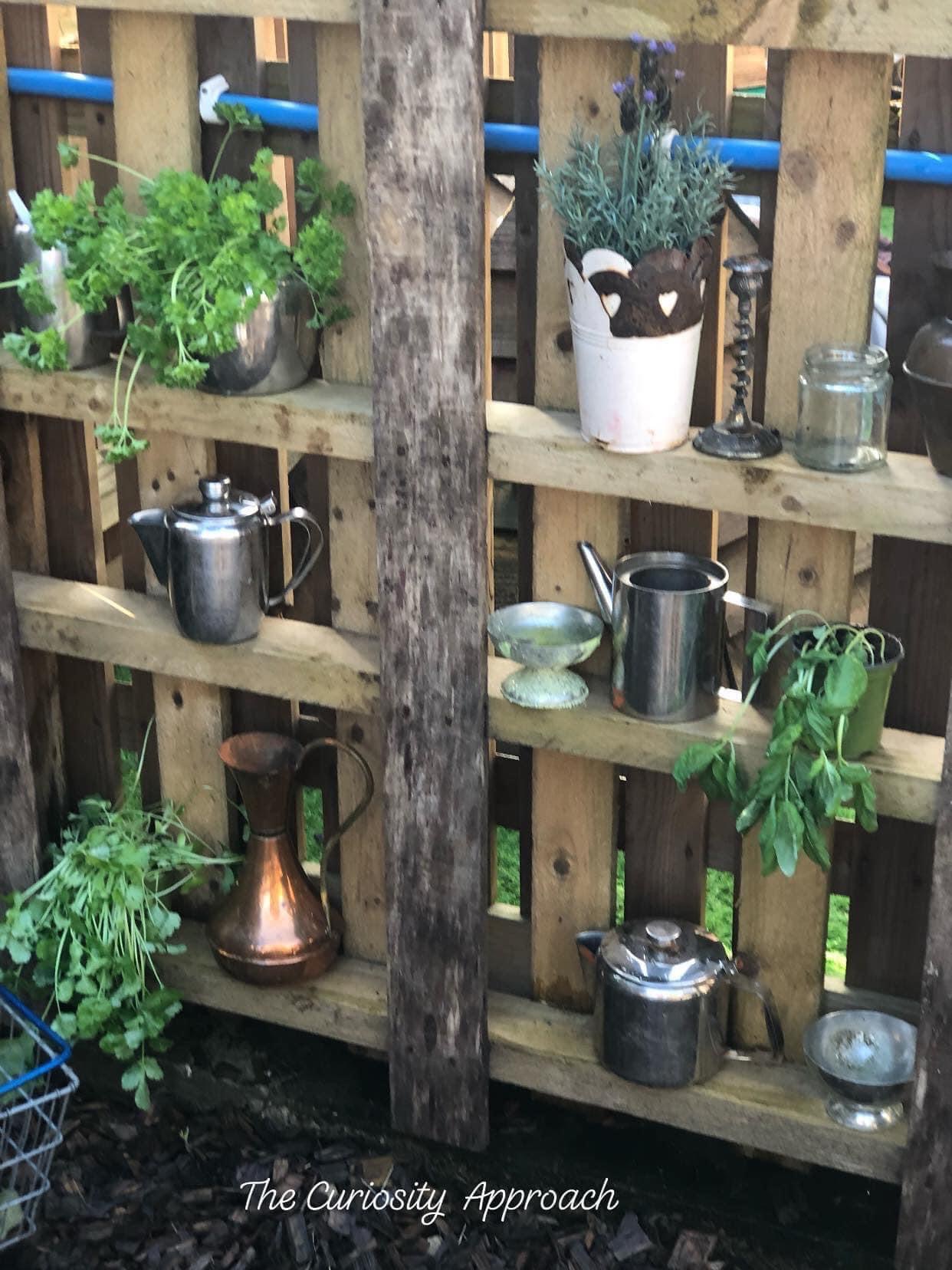 7. Balancing wall

Using guttering and drain pipes to roll ball, cars and loose parts down the ramp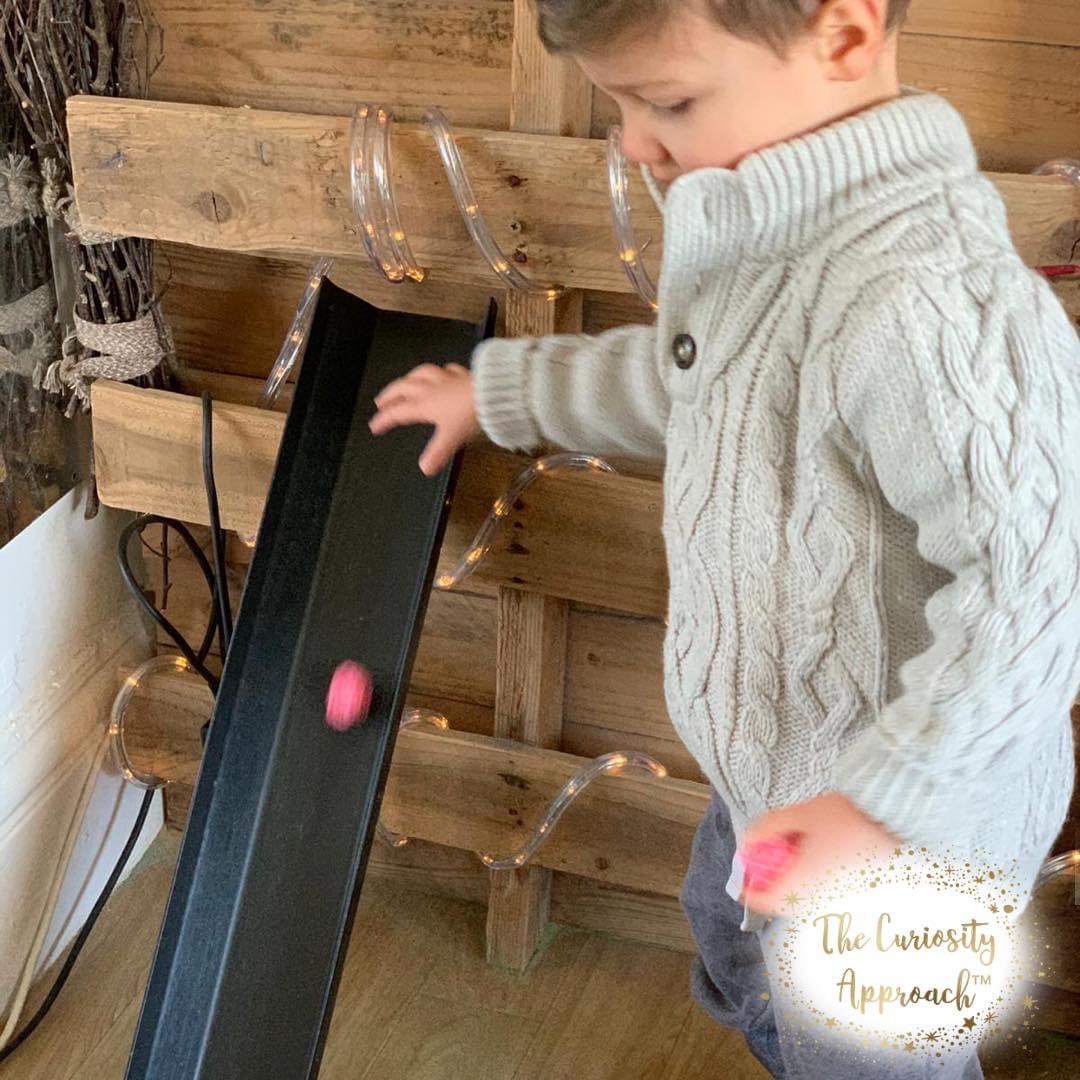 8. A cosy area for sitting to read a story, add a cot mattress for seating, cushions and a throw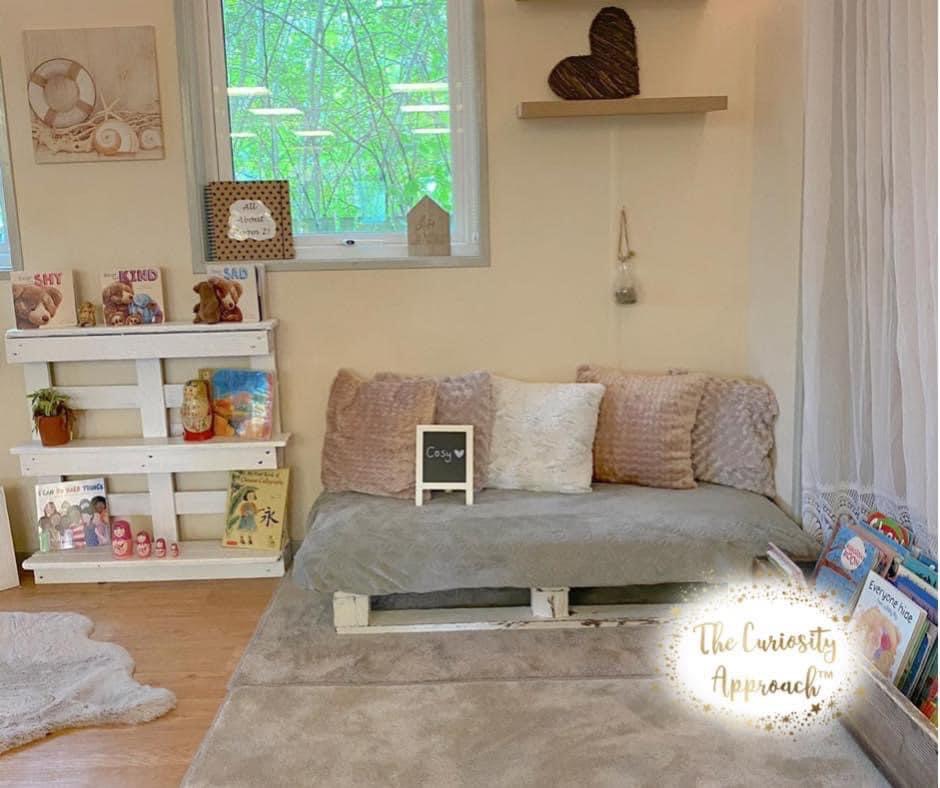 9. A play dough station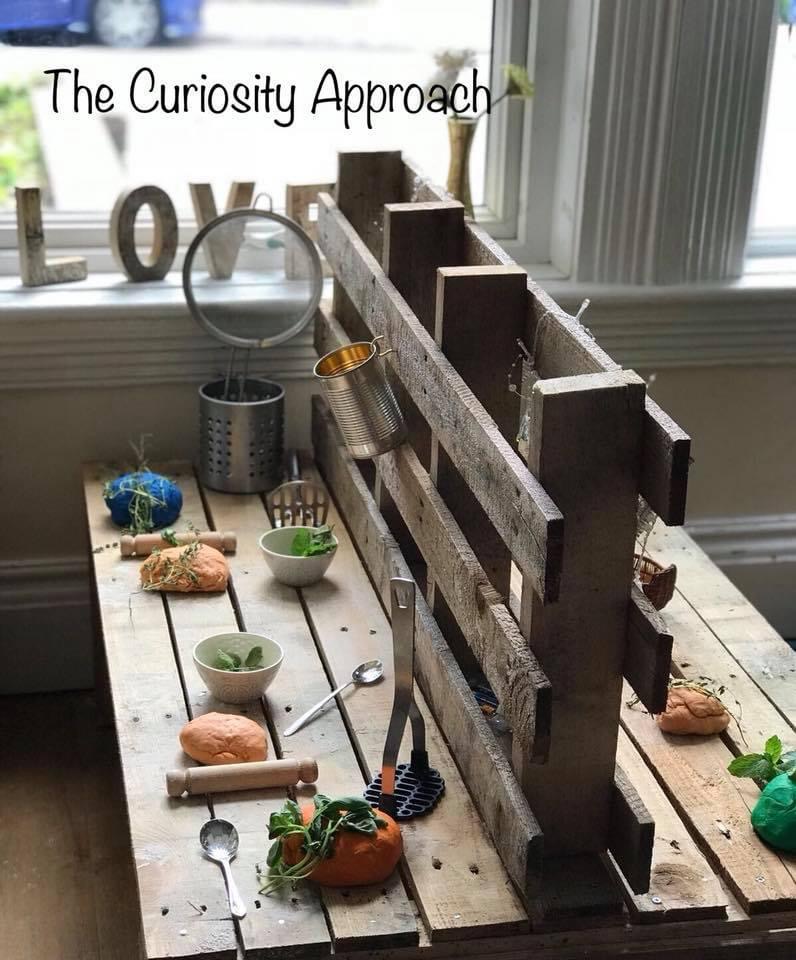 10. Low level loose parts table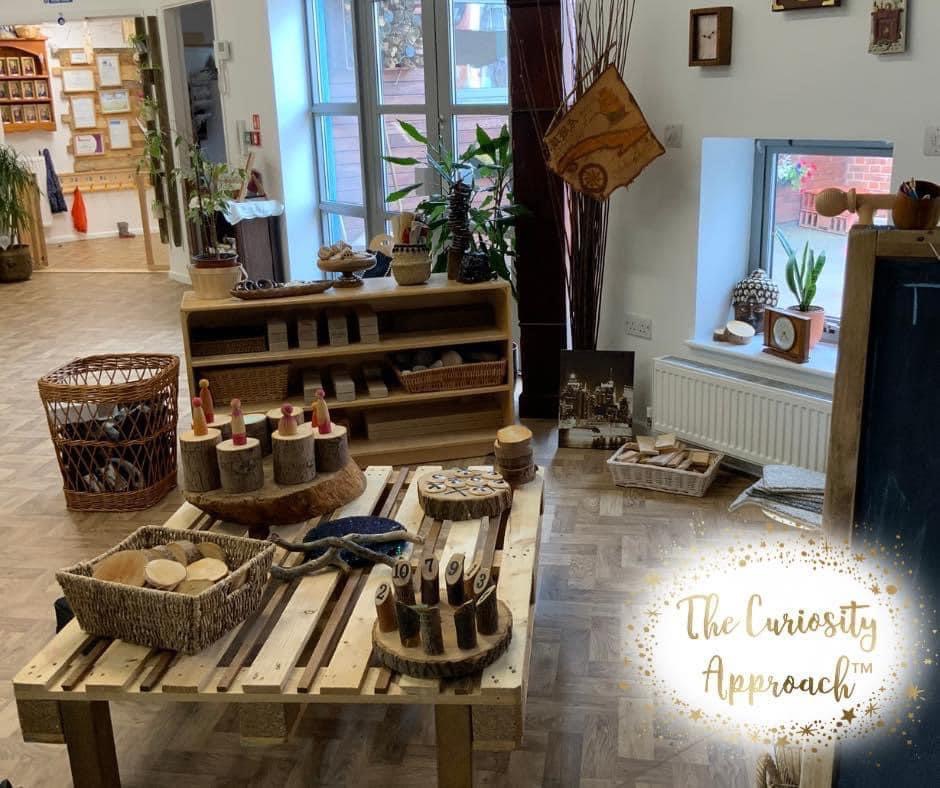 Pallets are versatile and useful and if carefully crafted and created can make inexpensive furniture for your setting. At The Curiosity Approach® we look to be sustainable, saving the planet and your pocket too.
We have many great downloadable resources and we have created a beautiful magazine for Early Years settings
Would you like to gain this FREE download ?
Access it here https://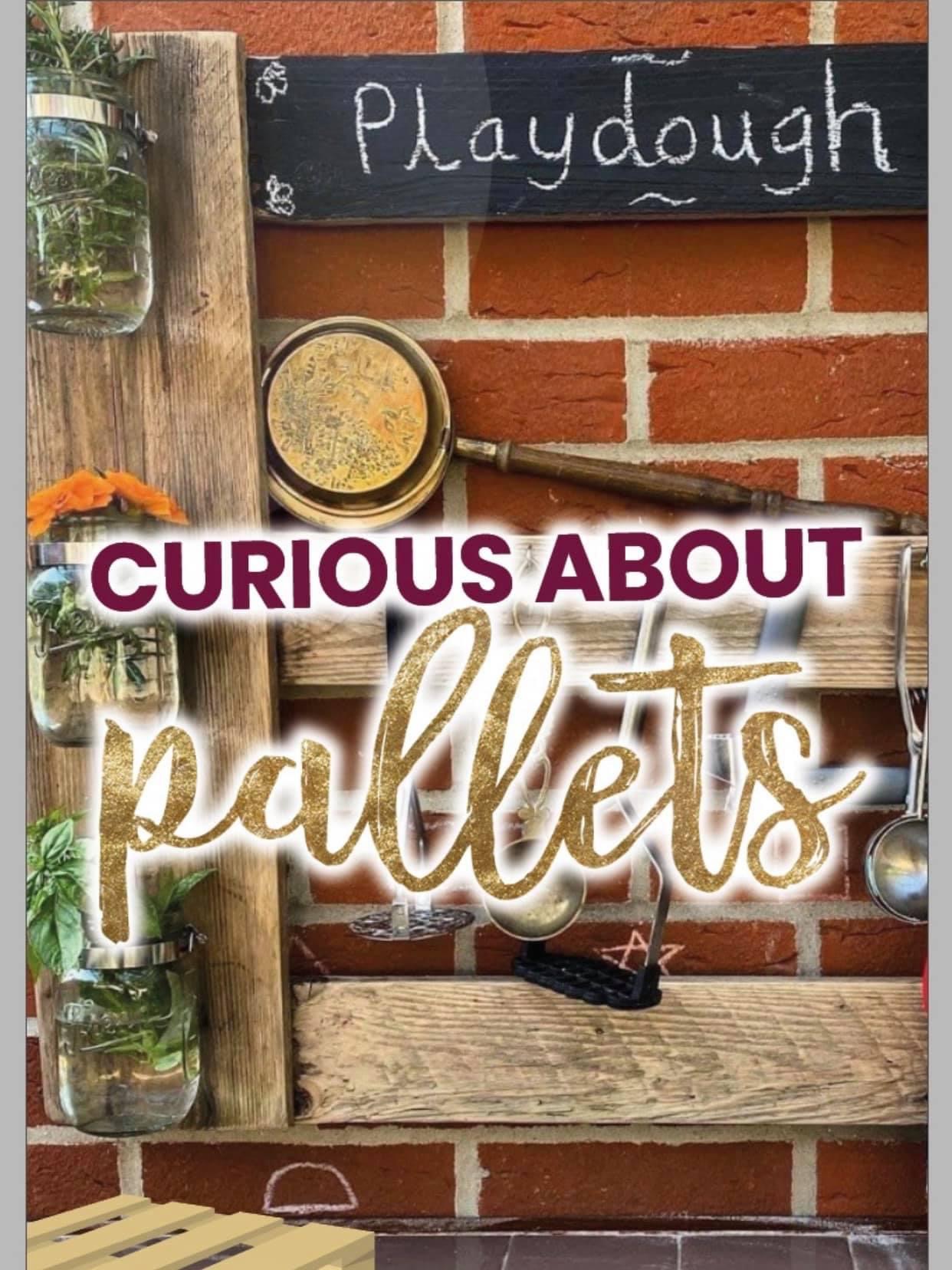 Written by Stephanie Bennett
Are you curious to see how well you are implementing The Curiosity Approach?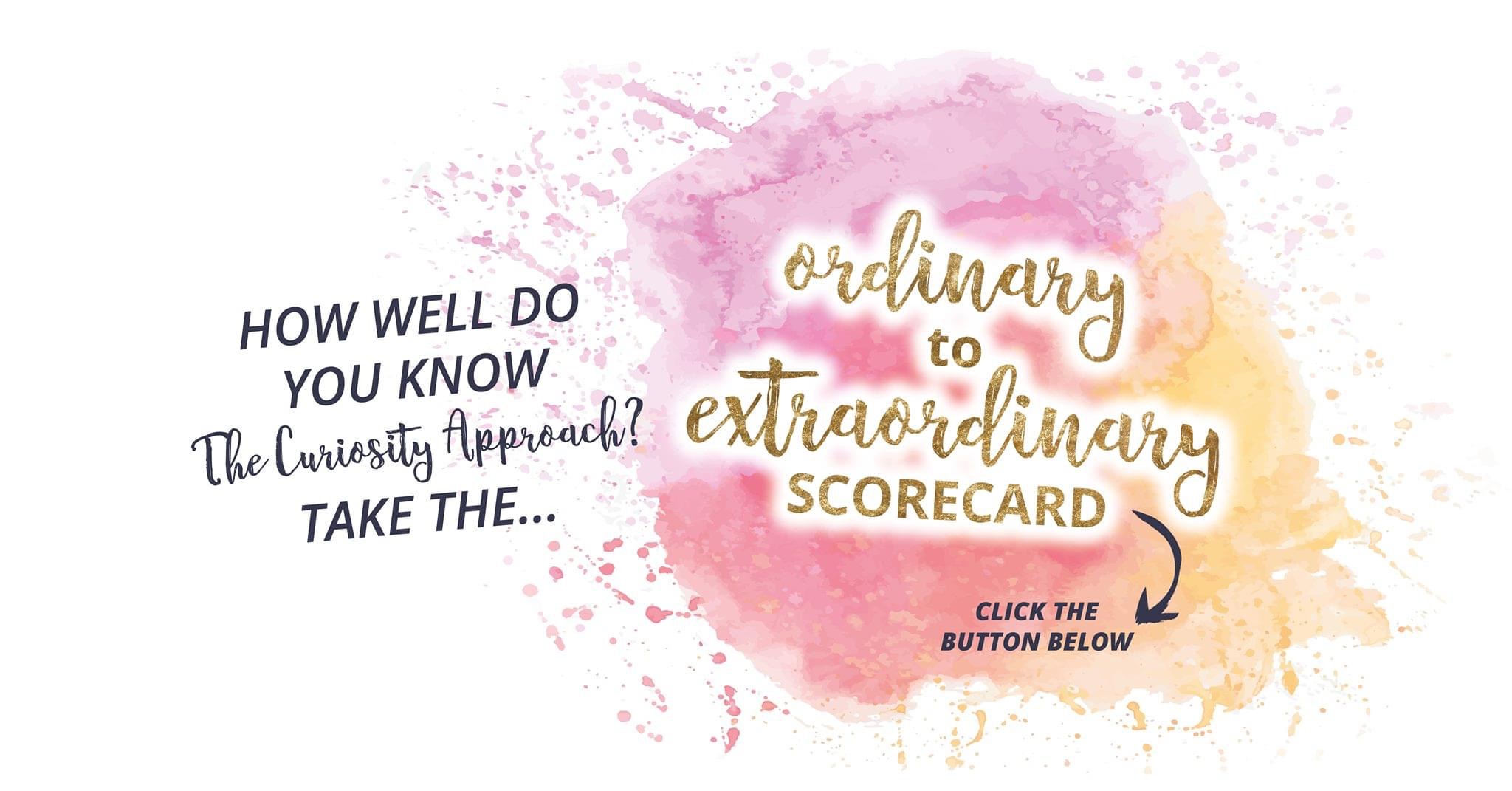 Take the quiz here
Copyright ©The Curiosity Approach2021 All Rights Reserved
All files and information and images contained in this Website or Blog are copyright-protected by The Curiosity Approach Ltd, and may not be duplicated, copied, modified or adapted, in any way without our written permission. Our Website or Blog may contain our service marks or trademarks as well as those of our affiliates or other companies, in the form of words, images, graphics, and logos. Your use of our Website, Blog or Services does not constitute any right or license for you to use our service marks or trademarks, without the prior written permission of The Curiosity Approach Ltd. Our Content, as found within our Website, Blog and Services, is protected under UK and foreign copyrights. The copying, redistribution, use or publication by you of any such Content, is strictly prohibited. Your use of our Website and Services does not grant you any ownership rights to our content